NEW UNSCRIPTED DOCUSERIES
ESPORTS IN REAL LIFE
THEY DREAM OFTEN. THEY DREAM BIG.
Esports IRL is the first behind the screen look at competitive esports at the amateur level and the incredible opportunities available to talented teens chasing their American Dream – to one day go pro.
The backdrop is Esports Tower's INVITATIONAL, an intense boot camp-style training program that immerses high-potential teens ages 13-19 to the physical, mental, and emotional elements of preparing for pro-level gameplay.
Open entries were offered and gaming enthusiasts from around the world applied for bragging rights and the dream of getting recruited to play varsity at America's leading Universities. Out of 10,000, 56 kids were invited to attend the INVITATIONAL.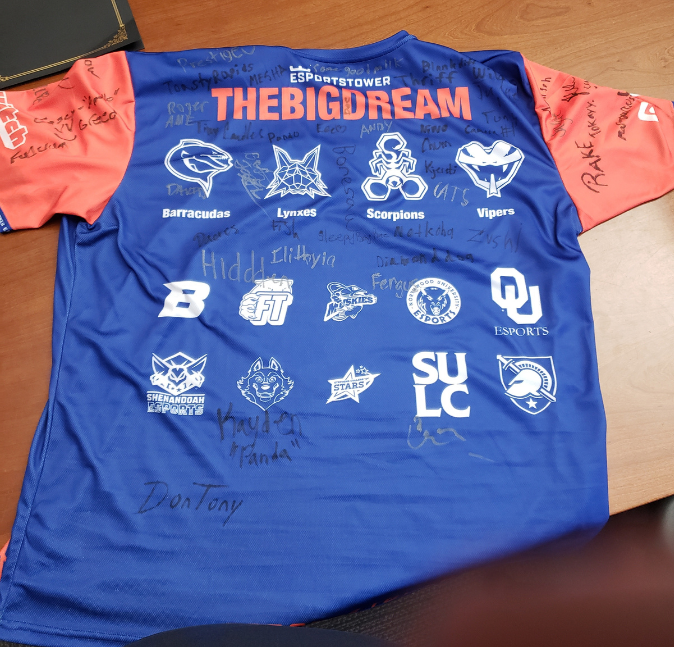 Will this amateur esports jersey be worth big bucks some day? We don't know, but we all signed it 'just in case' a star was born at the 2022 Summer INVITATIONAL.
GET A SNEEK PEAK OF OUR NEW SERIES
With 12 hour-long days, the clock ticking, and tensions high, INVITATIONAL players' agility, focus, stamina, and grit are put to the test. Tensions run high as they compete against the most mind-blowing, mentally challenging competitors their own age from over 7 countries. Numerous strategies and decision points throughout the day are designed to further challenge the stamina of the competitors and deliver hilarious and surprising results. All while perplexed parents watch trying to grasp esports gaming and top collegiate recruiters look to spot their next up-and-coming champion.
Real Players. Real Stories.
Behind the Scenes.
Players. Parents. Recruiters.
We're looking for that winning combination of in game IQ and in life EQ
TRAINING. TEAMING. STREAMING.
IMMERSIVE EXPERIENCES.
DYNAMIC LEARNING.
FANTASTIC FUN.
WE'RE REVIEWING MOUNTAINS OF GREAT FOOTAGE
CREATING COMPELLING TELEVISION THAT TELL TRUE STORIES TAKES TIME
WANT TO GET SHOW UPDATES?
Follow us on social media for updates, behind the scenes clips, interviews with the coaches, cast and more!