Getting Started As A Video Game Designer In The Gaming Industry
Overview
Remember the excitement and awe you felt in a video game when you first walked into a new game environment, explored a new map, or found out more in the storyline of your favorite character? Thank a video game designer.
Video game designers develop the ideas for games, write the stories, characters, dialogue, and rules. They work with artists, sound engineers, and developers to create the game's look, sound, game mechanics.
If you want to earn a living making video games, keep reading. We talked to several people in the industry and have some great tips on how to get ahead of the game and find your ideal role.
What Does a Video Game Designer Do?
A video game designer's responsibility can vary based on the size of the studio.  In smaller studios they are saddled with a wider array of tasks, while in larger studios, each designer will have more focused and specialized jobs, such as focusing exclusively on level design or story.  If the studio is very small, like many indie studios, they might even do artwork.
In an interview with Hitmaker, the Associate Designer at Poorly Timed Games, Patrick Casey, says, "I am at an indie company, so it involves wearing a few different hats. Some days I have a design hat on and am bouncing between meetings and editing documentation. Other days I am making videos for a pitch and playtesting builds."
Shax Wahid, who is the Level Designer for Rebellion, told Hitmarker about a typical day: "Sometimes there's fires to put out or sometimes new tasks arrive that will need prioritizing. I'll grab the latest edits on Perforce (Software Configuration Management System) and then attend the level design daily stand-up meeting where we discuss what we will be working on that day so the team is informed on what everyone is up to. From there I could be spending the day whiteboxing my level, scripting gameplay or objectives, populating the level with AI, or working closely with my artists replacing whitebox sections with art (and that's only a handful of usual tasks!)."
Career Skills for Video Game Marketers
Here are some of the skills all game designers should master.
Junior Level
Creativity
Telling Stories
Efficiently managing your time
Communication
Eye for detail
Intermediate Level
Senior Level
Effectively managing tasks, prioritization and deadlines
Leading Teams
Ability to coach and mentor others
Creativity is at the center of a game designer's skillset. Knowing how to craft and tell stories is only the beginning. You must bring that story to life in the game and capture the highs and lows and everything in between, creating an experience players will love.
All storytellers must have a critical eye. You need to critique your work and that of others, catching problems early. This means communicating clearly with team members, sharing feedback and criticisms with one another, and receiving such criticism yourself without getting upset. Shax emphasized how important this was by saying, "Another great skill to have is being able to constructively discuss and critique your own designs with team members in order to get the best out of your work."
Knowing how to code is not essential, especially when starting out, but over time you should learn some coding language. Patrick says, "While you might eventually need to learn some languages, you can do an alarming amount of work on a game without ever touching a line of code. You definitely should learn python or another simple language though."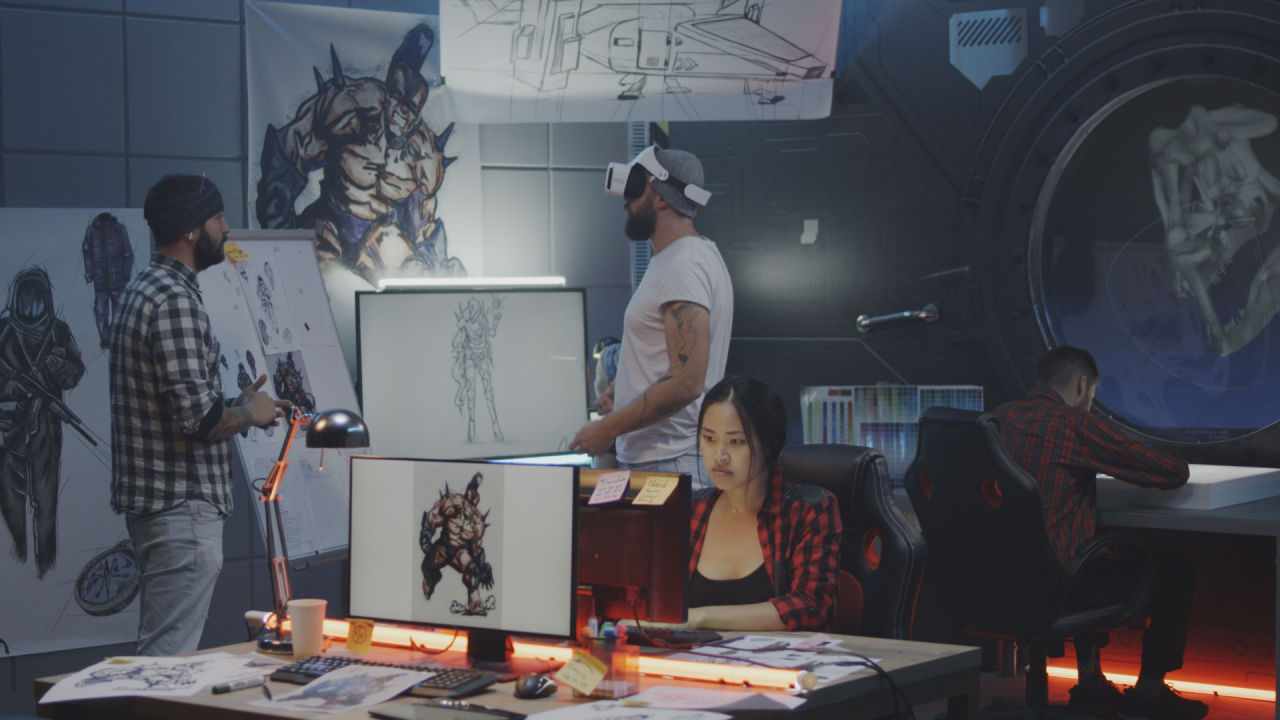 Get Game!
If you're still interested in game design, it's time to start developing new skills.
All your wealth lies beneath your hat!
About education, Patrick said: "For design, I don't think a degree is entirely necessary. I did go to school and got a BS in Photography, but I am pretty much only using theory and critique in my day-to-day job."
Shax agrees, saying, "You don't need a degree to break into the games industry, however taking time out to learn the craft is a must. Gaining a degree would show skills such as people skills and being able to work successfully towards a deadline, however it's not required if your talent is evident looking at your work. There's so much game development information out there on the internet at the moment it's practically on the doorstep. There are really useful YouTube tutorials for game design, games art, etcetera. Unity and Unreal Engine are free to use and they are perfect for learning how to create games."
Check out these free resources for learning game design :
Practice & Patience help you build a portfolio
While tutorials and videos are great ways to learn basic concepts, nothing beats actually grinding out work. "For design and other creative disciplines, what matters is that you are making stuff. Constantly be creating."
Doing is the best way to learn, and it also give you something to show potential employers.
Myth Busters
Making video games is not all play and no work. Playing and testing games is part of it, but attending design meetings, working on new features with your team, and putting out fires when things go wrong are also part of the typical work day.
In the video below, James Martin, a Game Designer at Creative Assembly, talks about his job and how to improve your chances of getting employed as a game designer. If you're interested in getting into game design, we recommend you take a listen and walk away with some wisdom.
Tips To Get You Started
If you are actively seeking work as a game designer job, here are skills you need to maximize your chances of success.
Make your portfolio stand out.
Sure, you could play Fortnite with the default skin, but you will look like everyone else in the crowd. You want to stand out, and modifying your character's skin is a great way to do that. Likewise, you want your application to stand out and get noticed.
Given this is a job that requires a lot of creativity, the best way to highlight your skills is thru boosting your portfolio. Showcasing your creativity with actual games and designs you have created proves you have the passion and skills for the job. Shax says, "Keep working on your portfolio — keep it clean, clear, and straight to the point. Remember, you don't always have to develop first-person shooters! Sometimes it's refreshing seeing a different kind of project."
While your portfolio is your most critical asset going into interviews, you may also need a resume and a cover letter to get you in the door.
Tools for the Job
Game design requires a wide range of skills. Allocate your skill points in the following:
Design Software
Photoshop
Sketchbook
Blender
Drawboard PDF
Game Engines
Unreal Engine
Unity
GameMaker
Godot
Programming Languages
C#
C++
Python
Java/JavaScript

What's the most sought-after skill for video game designers?
Creativity and bringing your imagined worlds to life is the heart and soul of game design.
Patrick says, "One of my favorite things about design is that whatever I am working on becomes a confluence of things that I have enjoyed. You never know what piece of media or craft will become an inspiration to your work."
Shax also expresses his love of creativity "I love creating environments and scripting so naturally, I fell into a level design role. Being able to create a world and give it meaning is really cool, especially when working alongside talented artists, animators, audio designers, and more. Seeing the joy on people's faces as they play your game makes everything worth it. Also, I can't find the right emotions that describe how you feel during a project launch — it's just bloody amazing."
If creating worlds, stories and characters is your passion, then video game design might be perfect for you.
Video Game Designer Salary
How much can you expect to earn while you help bring your imagination to life in a video game?
According to Glassdoor's salary calculator, entry-level game designers with less than a year's experience in the industry earn a base salary of around $40-50k per year, while experienced designers can see salaries exceeding $100k for the most senior positions. On average, game designers earn about $66k per year in the USA, according to payscale.com.
If this sounds like your dream career, head over to Check out LinkedIn Jobs, Indeed, Zip Recruiter, and Hitmaker, and take a look at all the game design jobs on offers.
Good luck, and remember that we're always here to help.
—
You can find Patrick's photography portfolio here: https://www.patrickcaseyphoto.com.